Macedonian Community Centre of WA
Corner of Albert Street and Macedonia Place North Perth WA 6006
Centre Manager: John Donev Tel 08 9328 7852 Mob 0411 579 088
Email: admin@macedoniawa.com.au
BSB 633-000 Account No 154460760
Name: Macedonian Community of WA (Inc.)
BECOME A MEMBER OF THE MACEDONIAN COMMUNITY OF WA
MESSAGE FROM THE HON ALEX HAWKE MP MINISTER FOR IMMIGRATION, CITIZENSHIP,
MIGRANT SERVICES AND MULTICULTURAL AFFAIRS MESSAGE FOR ORTHODOX EASTER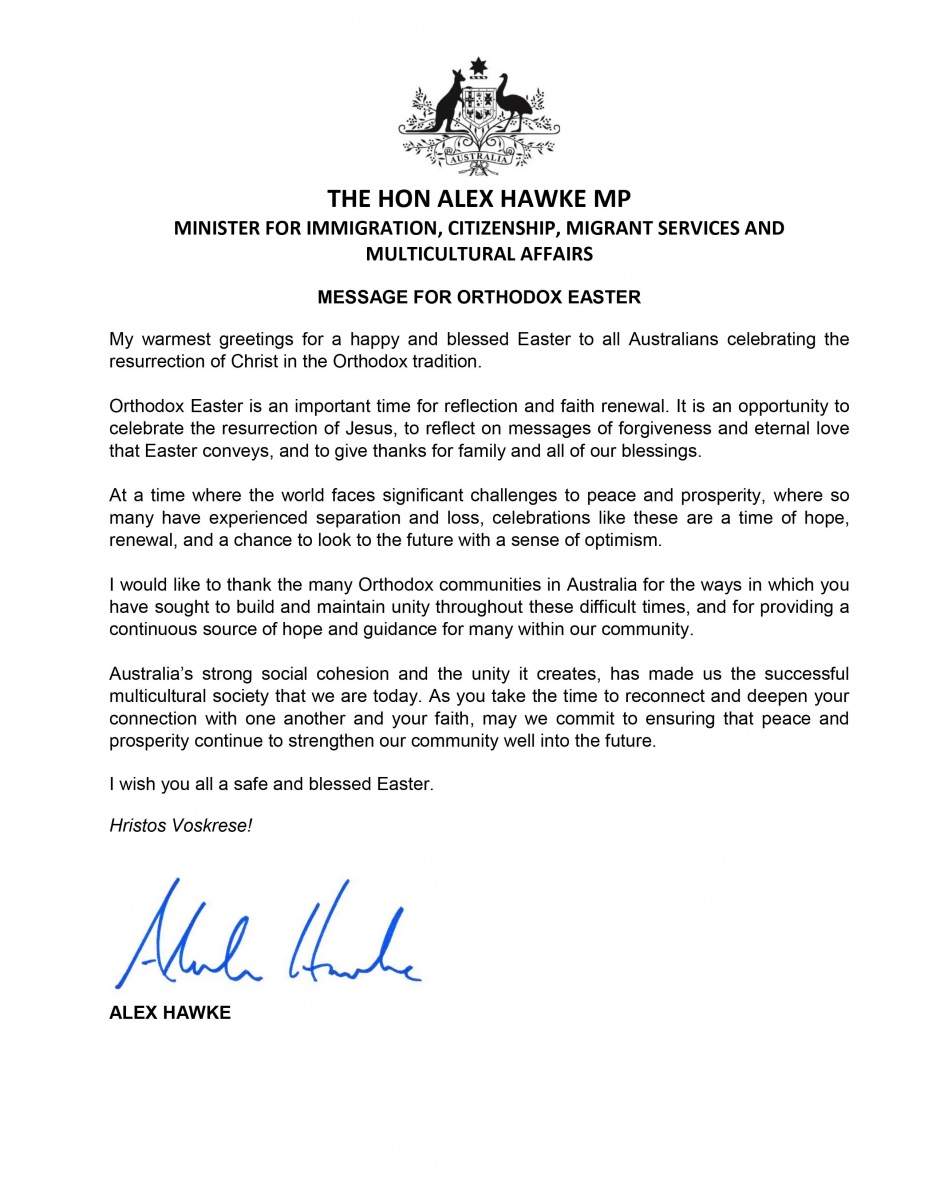 To All Members and Guests of the Macedonian Community of WA.
Based on the latest health advice the Western Australian State Government has introduced new COVID 19 restrictions state-wide which will apply to all people aged 16 years and over.
The Macedonian Community Centre in North Perth falls within the category of clubs and therefore the following conditions apply for any person wishing to enter the community premises.
1.Proof of vaccination and identification must be shown upon request before entering the centre, this includes the front bar and kitchen areas.
2. Scanning the Q R code with a mobile phone or manually signing the register is also a requirement. (Q R scanning codes are placed in prominent places and at entry points within the premises)
3. Masks must be worn indoors and can be removed during meals or whilst drinking.
4. Personal health and hygiene must be maintained at all times. Sanitizers and hand cleaning products are provided.
5. If any person is experiencing flu like symptoms or is of ill health then, it is strongly recommended that they do not enter the premises.
Any person who does not meet the vaccination requirements will NOT be permitted to enter the premises.
Please understand that these are Western Australian State Government conditions that are strongly enforced.
Management Committee
______________________________________________________________
Enrolments for 2022 Macedonian Language Classes Now Open
IMPORTANT ANNOUNCEMENT FROM THE MACEDONIAN COMMUNITY LANGUAGE SCHOOL
The Macedonian Community Language School wishes to advise that
enrolments for 2022 Macedonian language classes are now open.
Macedonian Language classes are available for school age children and adults.
Classes for school age students will be held on Tuesdays from 5pm to 6.30pm.
Classes for adults will be held at a time which is mutually convenient to the students and the
Teacher.Correspondence can be made via email to the following address: language@macedoniawa.com.au
______________________________________
History of the Macedonian Community of W.A. Inc.
The Macedonian Community of W.A. (Inc) has its origins linked to the periods of emigration following World Wars I and II. The first Macedonian migrants came to Australia in the 1920's after World War I. Initially these pioneers were "pecalbari" meaning fortune seekers who came to Australia to better themselves economically and to return to their families in Macedonia. These plans were soon changed with the beginning of World War II and the Civil War in Aegean Macedonia with most of these pioneering Macedonians seeking refuge in Australia. Once these wars had concluded the process of family reunions began and tens of thousands have since made Western Australia their new home and have made significant contributions to the economic, social, cultural and sporting fabric of Australia and Western Australia in particular.

The first formal Macedonian organization of "Edinstvo" or "Unity" was formed in 1941. Edinstvo served as a precursor to the Macedonian Australian Community of Perth , Western Australia which was formally registered in October 1964 and is now called the Macedonian Community of W.A. (Inc.).

By far the most significant influx of Macedonian migrants to Western Australia occurred from 1950 through till 1965 with the arrival of the "Deca Begalci from Aegean Macedonia" from 1955 till 1965, being the Macedonian Child Refugees who had fled the Civil War in Aegean Macedonia between 1946 and 1949 to adjacent eastern bloc countries like Yugoslavia, Hungary, Poland, Rumania, Czechoslovakia and Russia.

These educated and committed young Macedonians marked the dawn of a new era for the Macedonian Community in Western Australia and together with the older pioneering Macedonians they set upon a path of establishing the Macedonian Community of Western Australia as the most progressive Macedonian organization in the Macedonian diaspora . In the late 1960's and 1970's a new wave of Macedonian migrants began arriving from the Republic of Macedonia and they soon became involved and have also contributed significantly to the continuing development of the Macedonian Community of W.A. (Inc) and all its subsidiary components.

In 1969 The Macedonian Community Centre and Macedonian Orthodox Church of St Nikola was officially opened after some 6 years of tremendous effort from the then Committee and our many generous members who volunteered their labour and donated generously.

In 1976 we added a second storey to our Community Centre and opened up a licensed club – The Macedonian Club of WA.

In 1985 we opened up Macedonia Park our sporting complex in Balcatta with its own Licensed Club, sports facilities for soccer, cricket, tennis and netball.

In 1994 we finally built our new Macedonian Orthodox Church of St Nikola across the road from our Community Centre which is the jewel in our crown of achievements.

The Macedonian Community Centre of W.A. and W.A. Macedonian Club in North Perth,, Macedonian Orthodox Church of St Nikola in North Perth, and the Macedonia Park Sporting Complex in Balcatta stand as beacons of our achievements for future generations to use and enjoy..

The main aim of the Macedonian Community of W.A. (Inc.) has and always will be the promotion of our distinct Macedonian language, culture and history for present and future generations of Macedonians in Australia whilst simultaneously encouraging a strong and productive commitment to the general Australian community as loyal and proud Australian citizens.

Take a moment to walk through our website. It is a source of information and contacts for members and our Australian friends. Please contact us if you would like to contribute your comments or find out more about us.

---
This Website was kindly built for us by Branko Lazarov of Lazarov Design at no cost to our Community. For all your website, design, business cards, certificates etc please see Branko email: art@lazarovdesign.com Tel 0409 085 221 - DO NOT CALL THIS NUMBER FOR MCWA MATTERS